PHOTO EXIF MANAGER 3.0
| | |
| --- | --- |
| | View and edit all well-known digital photo EXIF tags. |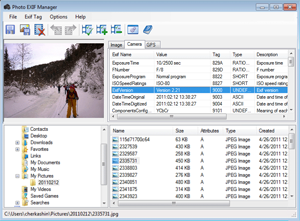 Photo EXIF Manager lets you view and edit all well-known digital photo EXIF tags. File navigation are similar the Windows Explorer. In addition to standard image tags, the program allows you to edit GPS tags.
Graphical interface also allows you to view image preview. All tags are listed in the table, and grouped into three main groups: Image, Camera, GPS. Double-click on the tag show edit dialog, which displays information about the tag and its editing tools. You can add, edit, delete some tags, or remove all tags. Manipulate the "orientation" tag to set the right image rotation.
Photo EXIF Manager features:

support EXIF 2.3 standard tags.
easy file navigation.
Import/export exif tags.
GPS tags editing.
edit all kind of tags.
EXIF orientated image preview.
remove all EXIF tags.
Photo EXIF Manager supports following exif types: BYTE (8-bit unsigned int), ASCII (8 bit ASCII code), SHORT (16-bit unsigned int), LONG (32-bit unsigned int), RATIONAL (Two LONGs, unsigned), UNDEFINED (8-bit), SLONG (32-bit int), SRATIONAL (Two SLONGs, signed).
System requirements: Windows PC, Framework .Net 4.0.
Trial limitations: 10-day trial period, nag-screen.
Download Photo EXIF Manager (0.8 MB):

exe

zip
WHAT'S NEW
2014-Oct-29 version: 3.0
help has been added.
import/export has been added.
program customization has been added.
tags sorting has been added.
"Add Tag" dialogue has been expanded, added groups: Camera,Image,GPS.
known tags list has been expanded.
UNDEFINED tag editing has been fixed.
2014-Jan-16 version: 2.62
Added: Serial number of the camera body tag has been added.
2013-Nov-21 version: 2.60
Updated: Time format has been changed to 24 hours.
Fixed: Registration name visibility has been fixed.
2013-Oct-30 version: 2.55
Added: Save As function added.
Fixed: Remove Exif function corrected.