PROFESSIONAL RENAMER 3.85
| | |
| --- | --- |
| | Powerful renaming tool to rename multiple filenames at once. |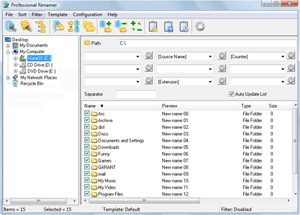 By using MIKLSOFT Professional Renamer software for windows, you can rename multiple files and folders easily. This is yet powerful renaming tool to rename multiple filenames at once.
Its user friendly and intuitive interface allows you to rename files easily. Unique visual templates system will helpfully assist you in renaming. All changes on new name immediately shows in the file list. Is great for MP3 collectors, digital photographers, Web developers, system administrators and everyone who works with a large number of files.
Unique visual templates system was developed to save your time. This is the intuitive system based on dialogs. Each template consists of the nine fields, which can accept one of the six values with corresponding options, or simply the text. You can operate with the following kinds of fields: source name, parent folder name, counter, date, time and extension. Without effort you can save your template, for subsequent use.
Professional Renamer features:
Multiple files and folders renaming.
Unique visual templates system.
Subfolders processing.
New names preview.
Files sorting and filtering.
Multiple usage of the templates (import/export).
System requirements: Windows PC.
Trial limitations: 10-day trial period, nag-screen.
Download Professional Renamer (0.9 MB):

exe

zip
Comments from others:

You did really a great job! The new version of Professional Renamer is a beautiful and easy to use program. The new interface is a great improvement, especially the tickboxes and the preview column. This type of tools is really my favourites... John Kerstholt
Press room:
What's new
2013-Dec-18 version: 3.76
2013-Nov-28 version: 3.75
Fixed: Main menu's online links has been fixed.
Added: Online help has been addded.
2013-Nov-11 version: 3.70
Fixed: Failed detail report error has been fixed.
Full Meaning to File Names with Robust Professional Renamer
Professional Renamer helps catalogue images, music and other content of your hard drive via meaningful file names. The program offers sophisticated templates and filtering to save time and maintain consistency of name patterns.
MiklSoft announces the release of the new update for Professional Renamer, a robust tool for batch editing of file names. It offers a host of features to create and keep in good order the inventory of images, music and documents. It allows saving name patterns as templates and applying them later to the same data types. Filters provide additional facility for batch work. The extent of useful offices and intuitive design put Professional Renamer in the frontline of file management tools.
The soaring amount of images and records kept on hard drives highlights the problem of inventory-keeping, says CEO of MiklSoft. Professional Renamer should help bring the disarray of data back into harness by introducing a single system of file names. It should help users find their way among numerous files and can even relieve one of search assistance. The latest update takes into account feedback from our customers and offers reusable visual templates to make renaming faster and more consistent. We also added import and export capabilities to provide for various archiving needs. What's more, the new version offers the preview of tentative changes so that users can correct their name patterns. Those who work with numerous files should find Professional Renamer handier and more flexible.
The system of visual templates allows applying different name patterns to every file type. One name pattern can include up to nine fields with the user-set separators in between. Each field in its turn carries a variety of attributes like source name, date, time, counter, user string, etc. The attributes are set through dialogues that avail users of a choice of parameters. For instance, time can form a part of a name string as a one- or two-digit value and allows a choice between the time of creation, modification, last access or any other user-set value. The same flexibility is found in every attribute dialogue. The unique pattern thus created will be saved as a reusable template or exported into a file. The system of visual templates extends the range of available renaming options and provides additional consistency of name patterns.
The intuitive clarity of the programs interface aims at easier and faster renaming. The three-panel window allows moving through system folders, editing templates, and addressing the changes to file names at the same time. A comfortable toolbar and a status bar complement the pleasure of operating the program. The comfort of working environment found in Professional Renamer inspired many positive comments from users. Here is just a sample: УYou did really a great job! The new version of Professional Renamer is a beautiful and easy to use program. The new interface is a great improvement, especially the tickboxes and the preview column. This type of tools is really my favourites, says John Kerstholt.