PROFESSIONAL RENAMER 3.76
| | |
| --- | --- |
| | A powerful tool to rename multiple filenames at once. |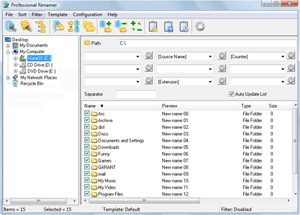 Professional Renamer is a useful and powerful tool that can rename multiple files. Its user friendly and intuitive interface allows you to rename files easily. Unique visual templates system will helpfully assist you in renaming. All changes on new name immediately shows in the file list. Is great for MP3 collectors, digital photographers, Web developers, system administrators and everyone who works with a large number of files.

Unique visual templates system was developed to save your time. This is the intuitive system based on dialogs. Each template consists of the nine fields, which can accept one of the six values with corresponding options, or simply the text. You can operate with the following kinds of fields: source name, parent folder name, counter, date, time and extension. Without effort you can save your template, for subsequent use.
Professional Renamer features:
Multiple files and folders renaming.
Unique visual templates system.
Subfolders processing.
New names preview.
Files sorting and filtering.
Multiple usage of the templates (import/export).
System requirements: Windows PC.
Trial limitations: 10-day trial period, nag-screen.
Download Professional Renamer (0.9 MB):

exe

zip
Comments from others:

"You did really a great job! The new version of Professional Renamer is a beautiful and easy to use program. The new interface is a great improvement, especially the tickboxes and the preview column. This type of tools is really my favourites"... John Kerstholt
Press room:
Full Meaning to File Names with Robust Professional Renamer.
Professional Renamer in Australian Computer Trader
Professional Renamer - Names Define Lives
What's new
2013-Dec-18 version: 3.76
Fixed: Some minor bugs.
2013-Nov-28 version: 3.75
Fixed: Main menu's online links has been fixed.
Added: Online help has been addded.
2013-Nov-11 version: 3.70
Fixed: Failed detail report error has been fixed.